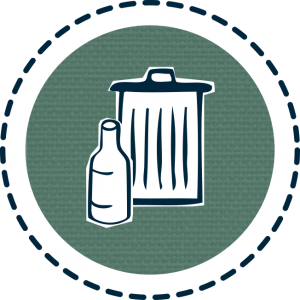 The concept of 'leave no trace' is well-known to those who love our great outdoors and aims to minimise the impact people have on our natural bushland. A responsible camper will always leave their campsite in a better state than when they arrived. This may include cleaning up rubbish that was left behind by others. 
Tips for waste management while camping
Whether it's food packaging or broken camp furniture, the message has never changed: you must always take your rubbish home with you.
Thinking about your rubbish before heading off on your camping trip will help you to create as little waste as possible.
Take heavy-duty garbage bags and 'double-bag' for extra durability.

Store full bags away from where animals can get to them.

'Crushable' items such as aluminium cans and cardboard containers are lighter and easier to keep than glass.

Avoid taking in high rubbish items such as glass, aluminium and plastic.

Natural food items such as fruit and vegetables are rubbish – they are not natural in Victoria's outdoors and can take years to decompose.

Some regional towns provide skip bins for campers near popular locations at popular times, however you should be prepared to take rubbish home and place in your household bins.
Waste disposal on licensed Crown water frontage
There are different regulations for camping on licensed and unlicensed Crown water frontage. You can find out if you're on a licensed Crown water frontage by using the MapShare website. For more information on licensed Crown water frontage, visit our Know the Regulations page.
A person who uses regulated land for recreation must, before vacating the regulated land, clear from the regulated land all waste and personal property for which the person is responsible.
The Department of Environment, Land, Water and Planning have supplied a summary of the rules for waste disposal on designated Crown water frontage campsites – the waste rules are listed below:
• Portable toilets must be at least 50 metres from the waterway (and not on private property).
• If not disposed of in a portable toilet, human waste and toilet paper must be buried more than 100 metres from the waterway (and not on private property).
• All rubbish and belongings must be taken with you on departure.